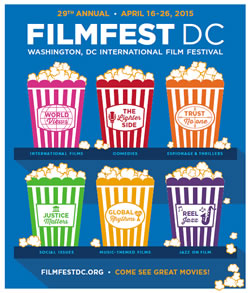 Download the catalog
Filmfest DC will take place April 16 - 26, 2015! Tickets Are On Sale!
Come See Great Movies!
Filmfest DC is back for its 29th year with an exciting new program of over 70 features, documentaries, and shorts representing the best in new cinema from around the globe.
Stay tuned for updates on guest appearances and special events. Check out our Highlights page for this year's great categories! And don't forget to join our mailing list.
We have a just created a Flickr page for the festival. Check it often as we will add to it as the festival continues with many exciting special events and guest appearances.
This Sunday: Closing Night Film & Party
I Can Quit Whenever I Want
SYDNEY SIBILIA
Italy, 2014, 100 minutes, digital, Color
A candy-colored criminal comedy confection that improbably yet deftly reimagines the "Breaking Bad" dynamic in the halls of Italian academia and nightclubs of Rome, this local box-office smash stars Eduardo Leo as Pietro, a talented, principled, and cash-strapped molecular research scientist who is also something of a milquetoast. When he loses out on a pivotal university appointment and must lie about his income to his increasingly exasperated live-in girlfriend Giulia (Valeria Solarino), Pietro desperately pursues one of many students who owe him tutoring fees to a popular club and has an inadvertent substance-induced epiphany. An obscure Italian law allows new, and thus unclassifiable, drugs in the marketplace. All Pietro has to do is gather together a group of his eccentric, socially challenged, and equally desperate brainiac colleagues, manufacture a synthetic Ecstasy variant, and peddle it in the most popular clubs under the noses of the established local drug lords. What could possibly go wrong?... more
Sunday, April 26
4:00 PM
Lincoln Theatre
Followed by a party at Brixton - $25 at box office
 
Watch Our 2015 Festival Trailer