Awards
Circle Award
The Circle Award is a juried competition of selected films that deserve increased recognition. The Circle Award is named in honor of Ted and Jim Pedas, founders of Washington's Circle Theatres, which set the standard for innovative quality film programming in Washington, DC. Films selected for this year's competition include:
The Award Jury consists of:
Felix Angel: Former curator, Inter-American Development Bank
Susan Barocas: Competition Coordinator, Writer/Producer
Manjula Kumar: President/Executive Director, Global Performing Arts
Gregory McGruder: National Geographic Society
Peggy Parsons: Head, Department of Film, National Gallery of Art
Filmfest DC Audience Award
Filmfest DC will present three audience awards: one to the feature film, one to the documentary, and one to the debut feature voted the most popular by our audience. Ballots will be available after each screening. All award winners will be announced on Closing Night.
First Feature Audience Award
One of the most important purposes of a film festival is to introduce new filmmakers to the world and to cultivate, showcase, and encourage these new talents. Filmfest DC is pleased to present the First Feature Audience Award for the best first films in the festival. The winner will be selected by a jury of experts and a cash prize will be awarded. Films selected for this year's competition include:

Signis Award
The SIGNIS jury will present an award to the film judged by its jury to best illuminate and celebrate what it means to be human in a diverse and challenging world.
Justice Matters
When an individual or group has experienced an injustice, filmmakers use their talents and craft to make us aware and hence, call us to take action.

We want to thank the CrossCurrents Foundation for their support in helping to make this series possible.
The award jury consists of: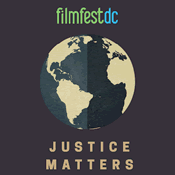 Conrad Martin: Executive Director, Stewart R. Mott Foundation and Executive Director of the Fund for Constitutional Government
Heidi Nel: Principal, The Raben Group
Kathryn Washington: Director of Diversity and Innovation, Corporation for Public Broadcasting