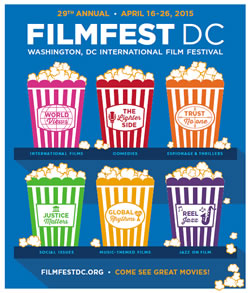 Download the catalog
Filmfest DC will take place April 16 - 26, 2015! Tickets Are On Sale!
Come See Great Movies!
Filmfest DC is back for its 29th year with an exciting new program of over 70 features, documentaries, and shorts representing the best in new cinema from around the globe.
Stay tuned for updates on guest appearances and special events. Check out our Highlights page for this year's great categories! And don't forget to join our mailing list.
Look for our catalog in the April 10th edition of The Washington Post.
Opening Night: Thursday April 16, 2015
TANGO GLORIES
Oliver Kolker, Hernán Findling
Argentina, 2014, 117 minutes, color
The Washington, DC International Film Festival is pleased to present Tango Glories as its 29th Opening Night film. Featuring dazzling musical and dance performances and an extraordinarily moving performance from Hector Alterio, the film centers on psychiatrist Ezequiel Kaufman (Gaston Pauls), who has been offered a four-year residency at a prestigious clinic. First he must present a clinical case study and he finds the perfect one in 85-year-old Fermín Turdera (Alterio), who expresses himself through the lyrics and titles of tango songs. As Ezequiel digs deep into the causes of this unique phenomenon, Fermin reintroduces him to a cultural expression he took for granted. The memory of an almost forgotten past comes back to life as both men bond over the wonders of tango-era Buenos Aires. Their friendship uncovers long-suppressed, unresolved secrets blended with beautiful, sensual song and dance in which tango is more than just an old ideal— it's a way of life.
Co-director Oliver Kolker started studying acting in 1994 and began dancing tango in 1997. He became obsessed with the dance, spending time at the milongas and dancing into the wee hours of the morning. Kolker has performed at Tango Fantasy Miami, Chicago Tango Week, Tango Magic Seattle, and Planetango Moscow Russia, among other festivals and showcases. —Various sources
In Spanish with English subtitles
Followed by a party with Tango dancers
Presented in cooperation with the Embassy of Argentina
An Evening with Ann Hornaday, Hosted by Arch Campbell
No two film critics have done more to promote the cause of good cinema in Washington than Ann Hornaday and Arch Campbell. None have been more forthright and articulate in their assessments, or stronger advocates for film as a means of both edification and entertainment. For the first time, Ann Hornaday and Arch Campbell will share the stage and discuss the art form that drives their passion.
Watch Our 2015 Festival Trailer